Hi There,
I thought I'd show you some of the things I've been making instead of just telling you about them.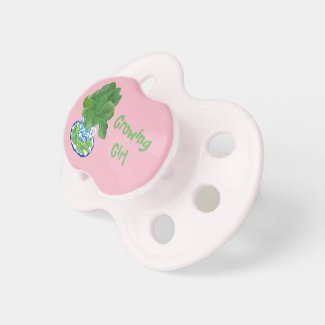 Growing Girl Pacifier
by
baby_art
You may recognize the painting on this from last years garden. Wouldn't it be fun to see the baby with this at the farmer's market? I'm designing a line of other matching products like a shopping bag to put everything in while you're out along with a bib and a burp cloth to take along for lunch time.
That day that I decided to bring a few salad things up to the house in my teacup and saucer has turned into a lot of fun over the last couple of years.
What I like best about this drawing is that it fits nicely on a lot of the the oval and rectangular products...and it's just plain cute!
I'm not sure just what I'll design with it yet but I do know I'll have fun doing it. I would encourage any of you with images that you'd like to see each day to try Zazzle for yourselves. We all need "stuff" in our lives, why not make things that we really enjoy having and using?