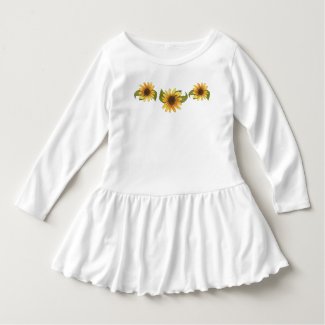 Sunflower Dress
by
julia_art
The design on this dress is from a drawing that I did quite a long time ago. Our city lot is certified wildlife habitat and each year we grow several varieties of sunflowers for all of the birds and animal that call this place home.
Each year I draw, photograph and paint a few to add to my design portfolio.
This time I inverted one of them and made the center just a bit larger to add a nice contour to the pattern.
The sunflowers inspire me and feed them. It's a win,win situation for everyone and everything here.
i'm happy to report that sunflower merchandise also sells well and helps keep it all going.